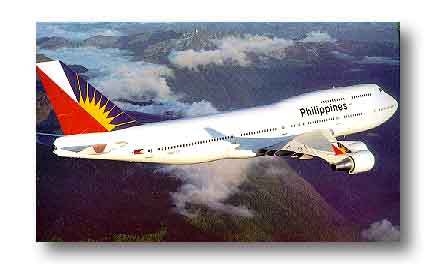 Philippine Airlines
We reach across the world to offer you the largest number of direct and non-stop flights from Manila. Our growing international network covers the major cities of the United States, Europe, Asia, and Australia. And with the recent addition of Kaohsiung, Jeddah, Labuan, Manado, and Osaka, this network now provides you with 34 destinations in 23 countries to choose from.
We have always been your gateway to the Philippines, a country which is blessed by magnificent natural wonders. You can fly to any of the 44 fun-filled destinations covered by our domestic network. We can even arrange specialized swingaround tours to suit your needs, such as beach, golf or diving packages.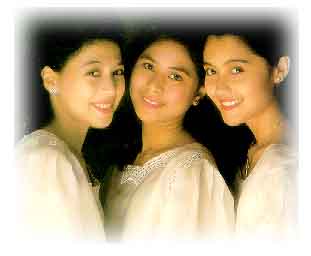 You'll certainly fly in comfort with our world-famous inflight service, distinguished by its Filipino warmth and hospitality. You can have a feast on our internationally renowned cuisine, which has made Philippine Airlines the first airline recipient of the prestigious Chaines des Rotisseur award. These meals are prepared at our Inflight Center which caters to 23 other airlines who call at Manila.
You can easily book a Philippine Airlines flight as our computerized reservations system links most of the Philippine Airlines sales offices: 105 in the Philippines and 56 worldwide.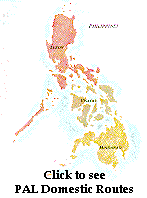 The Philippine Airlines fleet is now composed of 45 airplanes, which carry an average of 16,300 passengers and more than 300 tons of cargo daily. These planes are flown by Asia's most experienced pilots, who have been trained extensively at the Philippine Airlines Training Center. And this fleet, which includes the world's largest commercial aircraft - the Boeing 747-400, is maintained by our engineers and technicians at the Philippine Airlines Technical Center, which is rated by the US Federal Aviation Administration, British Civil Aviation Authority and the Netherlands RLD as a repair agency for aircraft of their respective countries. And we've constantly made improvements and introduced new services to serve you better:
For First Class passengers, Mabuhay Class passengers, Mabuhay Club members and tour groups, the City' Check-In offers a more convenient way of checking-in your luggage. You can check-in as early as 24 hours before your flight - right in the heart of city! City Check-In Centers are at your service in Manila and Makati.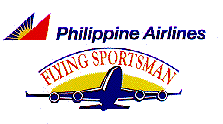 Bowlers, golfers and scuba divers will have no trouble traveling with their equipment The Flying Sportsman Card allows them extra baggage allowance for their various sporting gear at no extra cost.
And there's still more to come as Philippine Airlines continues its unending drive to take-off to new horizons and provide you with only the best.
---
( © 1997) Produced by Filweb Computer Services